Mason
Who is Mason?
Mason, also known as Floro, Yves, and various Tumblr URLs, who uses any pronouns but she/her, is one of (if not) the most prolific coiners in the MOGAI community. In their almost three years on Tumblr, they've coined easily one-thousand terms, be that on their blog or via someone else's.1 These terms also include the multiple gender systems, one of which is one of the largest in the MOGAI community.
Other MOGAI Blogs
Box-of-Bananas
Box-of-Bananas was a blog run by Mason that was made to focus on food, candy, and fruit genders. It was deleted some time in 2021, with no given reason.
History
General
Mason first posted on the blog on November 26, 2018.2 Since then, they've been posting and coining genders somewhat regularly.
Old Blog Names
Over the past almost three years, Mason has used a number of different blog names, without ever changing blogs. Those names will be posted here, in (hopefully) chronological order.
Thepancherryblossom
Aresgoesgender
Polysexualtea
MOGAI-Minecraft-Snail
Atergender
Beysgender
Hawaiiaine
Genderpotion
Caergenderfleur
Hallowgender
Gendermessis
Gendersnoboll
Genderpusteblume
Gendermagiostra
Ostereigender
Flosgender
Gendersylvestrium
Genderarconbe
Tomnaticgender
Pumpkigender
Flurrigender
Herzdamean(current)
Allegations
This section has a content warning for brief mentions of abuse and fetishization For anyone sensitive to these things, the following sections are free of any similar content.
On March 13, 2021, Tumblr user Uncommongenders made allegations that Mason was both an abuser and a fetishist/fetishizer3 (though there was no context given in regards to what) in a post about kits moodboard/stimboard requests in regards to problematic users.

Uncommongenders' Allegations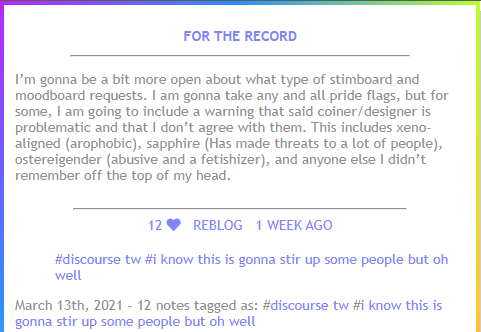 These allegations were brought up in a general sense, without context, and don't seem to be about something that Mason did to the Uncommongenders mod personally, rather to other people. In the original post, the allegations weren't given any more context or explanation than that Mason was allegedly an abuser.
Later that day, the Uncommongenders moderator answered an ask, wondering whether kit actually had proof for kits allegations. Kit said that kit didn't have screenshots, but that "I've talked to several of his exes and they all say the same thing about him."4 Kit further explained kits reason for fully believing said allegations, without proof, saying "And most of the people (iirc) didn't know each other before I started asking around. So I highly doubt they're all ganging up on him."5

Uncommongender's Explanation for Beliefe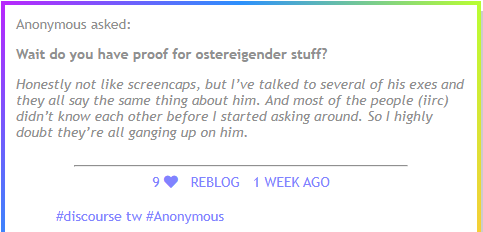 As of March 24, 2021, there is no further proof of the allegations, from Uncommongenders or anyone else.
Their Terms
For a full list of genders coined by Mason on both of their blogs, see Mason's Terms.
Their Gender Systems
In the past nearly three years, Mason has made multiple gender systems, one of which seems to be the largest within the MOGAI community.
The Cháloouin Gender System is a system of Aesthetigenders, Fluiagenders, and Fluxiagenders related to Autumn and Halloween
The Fluogender System is a system of Naturengenders related to the flow of water.
The Gendercite Gender Group is a system of Aesthetigenders related to things in a city.
The Gendernitidus System is a system of Naturengenders related to vibrant, colorful, and shiny.
The Genderodoro System is a system of Aromagenders related to certain smells, fragrances, etc.
The Genderstajon System is a system of various types of genders primarily related to nature (to some degree) that contains well over 100 genders and is one of the largest in the MOGAI community. It branches off into several sub and minisystems related to more specific things.
The Pumpkin Collection is a system/collection of Aesthetigenders, Colorgenders, Floragenders, Gastrongenders, and Naturengenders related to pumpkins and aesthetics.
The Staciunian Gender Group is a system/group of Naturengenders related to seasons and moths
The Tenebrous Gender System is a system of Aesthetigenders and Naturengenders related to darkness and gloom.
The Tropicaux Gender System is a system of Naturengenders related to the tropics, tropical weather, and rainbows