Dreamcoric(2)
Dreamcoric Flag 2
Flag Meaning: Unknown or nonexistent
Dreamcoric Flag 1
Flag Meaning: Unknown or nonexistent
This page has a content warning for mentions of beverages in the second redesign maker's username For anyone sensitive to these things, the other pages are free of any similar content.
Name(s) and Definition(s)
Dreamcoric is a Kenochoric Aesthetigender, Affectagender, and Dreamiagender defined as "Coric gender based off of dreamcore. Closely related to oddcoric, but may have more of a dreamlike or nostalgic quality to it."1
History
Coining and Definition History
Dreamcoric was coined on November 22, 2020, by Tumblr user Kenochoric.2
Flag and Symbol History
The flags were made by Tumblr user Kenochoric on November 22, 2020.3
The first redesign was made by LGBTA Wiki user MidnightTheCarrot on June 28, 2021.4
The second redesigns were made by Twitter user Monowantscoffe1 on December 26, 2021.5
As of June 5, 2022, Dreamcoric doesn't have a symbol.
Etymology
The etymology of Dreamcoric was never posted.
Suggested Pronouns
Dreamcoric doesn't have any suggested pronouns.
Related Genders
Subsets
This gender doesn't have any subsets
Similar or Otherwise Related Genders
Gallery
Original Flag, Redesigns, and Symbol(s)
Original
Original Dreamcoric Flag 1
Flag Meaning: Unknown or nonexistent
Original Dreamcoric Flag 2
Flag Meaning: Unknown or nonexistent
First Redesign
First Dreamcoric Redesign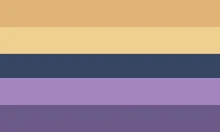 Flag Meaning: The top half stripes represent the backrooms, a popular dreamcore image. The bottom half stripes represent purple lighting, a common thing in in dreamcore images. The middle stripe represents dark lighting, another popular thing in dreamcore images.
Second Redesigns
Second Dreamcoric Redesign 1

Flag Meaning: surrealism
the feeling of a dream
daydreams
sweet dreams
Second Dreamcoric Redesign 1
Flag Meaning: surrealism
the feeling of a dream
daydreams
sweet dreams